Single Submission Surveys
Martijn van de Rijdt, 22 Sep 2016
@enketo
Enketo now offers the ability to conduct surveys that obtain just a single reponse from each user!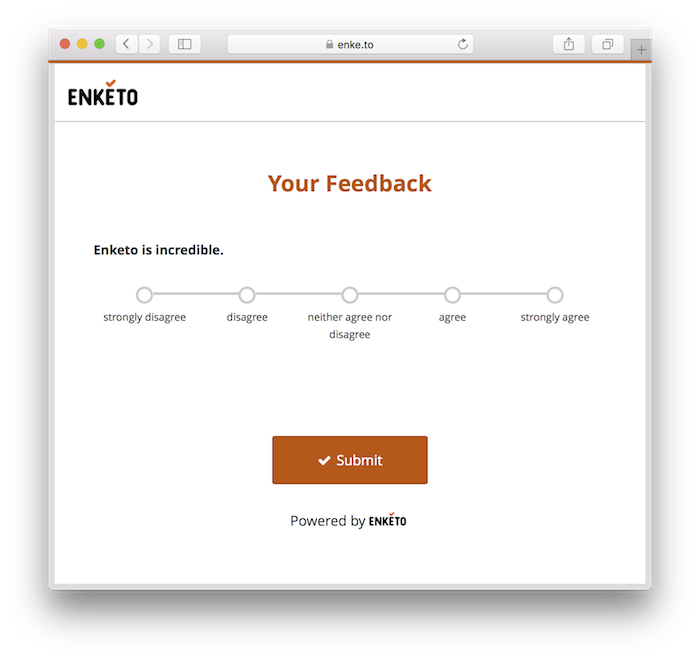 Why Use This
If you want to conduct a single-use survey by sharing a link, you can now use the awesome power and sophistication of XLSForms and Enketo. Finally, there is no longer a need to Monkey around with limited, outdated software for these types of surveys! Think for example of polls and user feedback surveys.
How it Works
When the user submits a response to your survey ze will be automatically redirected to a page you specify or to a generic "thank you" page. If the user attempts to submit the same survey again, a message is shown: "You have already completed this survey".
Demo
See this demo and submit your response.
How to Use
No need to add anything to your XLSForm. You have the following options to use this feature for any form:
A. Be an activist
You could actively request any Enketo-powered service to leverage this new feature. Those services rely on your feedback to continuously improve.
B. Use your own Enketo Express installation
Make sure to populate the new config.json item and use this API endpoint to request a webform URL.
C. Use the paid Enketo service.
Use this API endpoint to request a webform URL from the paid Enketo service, or upgrade your form/data server when it has added the feature.
Acknowledgements
This feature was co-sponsored by Enketo's Official 2016 Top Sponsor: OpenClinica, and by Enketo LLC.
Feedback
As always, we'd love to get your feedback. Comment on this blog, tweet @enketo, or post a message in the Enketo forum. If you discover a bug, please let us know what browser you are using.